Get to know Ryan Gillett
July 2020
Ryan Gillett's work is recognisable for its charming hand drawn characters and roughly textured black lines. Funny in the most good natured way, we are very proud to be representing the Brighton based illustrator. We asked him 10 questions to find out a bit more about the mind behind drawing.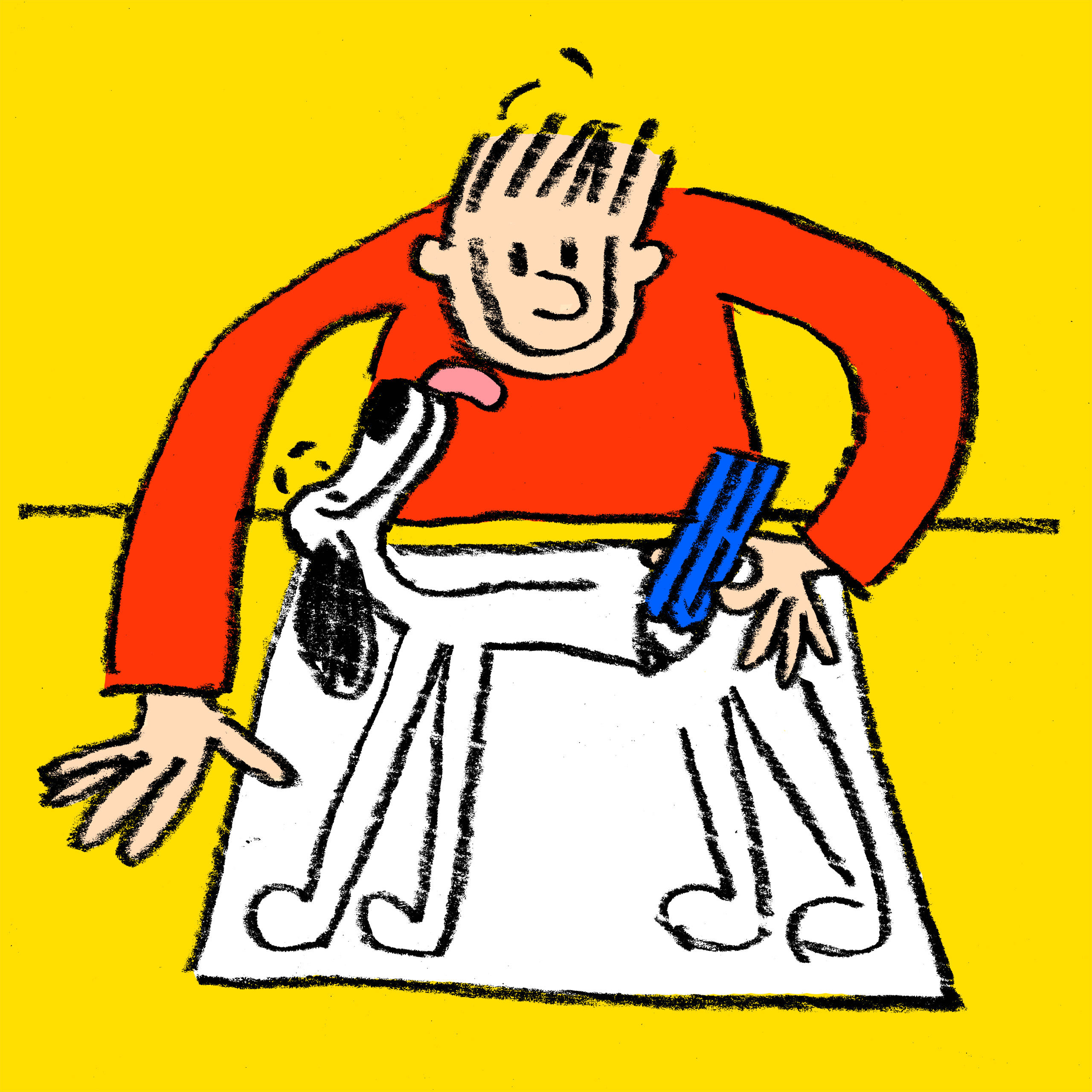 1. Do you listen to music while you draw/paint/illustrate? And if so who or what gets the most plays in your studio?
I have a mild obsession finding new and old music to listen too. There's an amazing record store/label in Brighton called Mr Bongo, I mostly rely on their vast library of music to inspire me. But most recently I've come across a website called Radiooooo, They have a world map with a timeline underneath. You can choose the time and the place and it will play the music that was popular then.
Apart from that my main go to's are Beach Boys, Shuggie Otis and Puccio Roelens – Rock Satellite.
2. Which other illustrators or artists do you most admire and why?
My top three artists are, Herbert Leupin, Raymond Savignac and Herve Morvan. They all have an element of humour in their imagery and their use of colour and line work is right up my street.
Anything from around the 50's and 60's that has playful and hand drawn imagery gets a thumbs up from me.
3. What is the best thing about being an illustrator? And the worst?
Getting Paid to draw isn't too bad, but those days when you don't have any work coming in are terrifying.
4. How do you overcome a creative block?
Doodle a bunch of randomness and hope that something will spark your imagination.
5. What are 3 of your favourite films? Which one would you illustrate the poster for?
"Big" 1988, "Endless Summer" 1966 & "Rushmore" 1998 are some of my favourites. To get the chance to illustrate for any of them would be a dream, but "Big" is my all time number one film so it would have to be that.
6. If you could illustrate the book cover for one book which would it be?
I'm not much of a book reader, but recently I bought myself a copy of "Mother Earth's Hassel-Free Indoor Plant Book" 1973. Marvin Rubin illustrated the whole book and I bloomin love it. It's full of fun doodles of the does and don'ts of plant maintenance. It'd be amazing to work on something like that.
7. Dream studio location and set up?
To be honest, the studio I'm in right now is a dream, It's full of amazing illustrators and lovely people. I've learnt so much in the last year or so working with these smashing people.
The toilet downstairs is looking a bit worse for wear though, a sparkling new pooper and sink would be delicious.
8.Best trip you have ever been on?
In my spare time I film skate videos under the name "CIDY LIFE", they're nothing too serious, just a bit of fun. Our first visit to Barcelona was top notch! Nothings better than hanging round with your best buds skating drink and laughing your ass off, oh and the sunshine is pretty cool too.
9. Best meal you've ever had?
My mum's sweet and sour pork, from back in the day when I used to eat meat.
Nowadays any spicy taco hits the spot.
10. If you could have any artwork in your home what would it be?
So many things! But three recent ones I've been after are…-
-Any of Klas Ernflo's fabric hanging things.
-Herbert Leupin, Renault Dauphine King/Queen poster
-or an Austin Lee Air Brush painting would be splendid.
Check out Ryan's portfolio here.